Well id like to begin by saying big thank you to cottees for giving me a hand and a big thank you to his GN as well which performed amazingly well towing the GJ GSR to my place.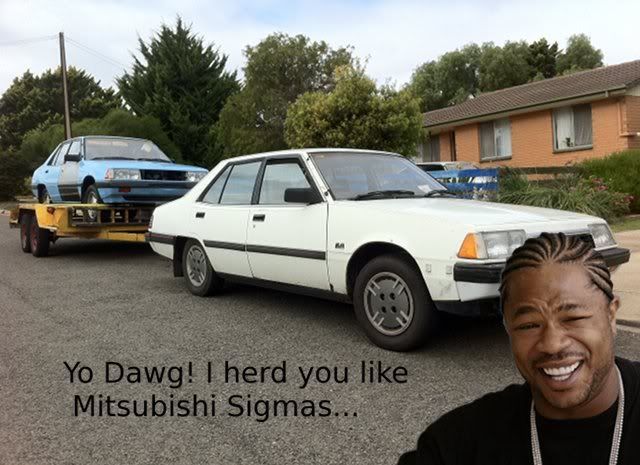 (stole cottees pic here

)
Well basically got this car yesterday (Monday 09/05/11) 1982 GJ GSR I also believe this belonged to a forum member previously some time in its life?
Plan with the GJ is to quickly fix it up keep it relatively stock and drive it around as a daily driver.
Car has a narrow block BW 5 speed gear box, original engine probably long gone and has had a magna block installed.
I bought the car fully aware of engine being seized only not knowing the cause just yet, I suspected the balance shaft chain came off or something of that nature and engine ran deprived of much needed oil, any how we'll let the pictures do the talking.
this is what I saw when I took off the front timing cover
hmm
fail
OK well let me take this as an opportunity to raise awareness of the dangers of balance shafts

1- they spin at 2 times the rpm of the engine
2- there pretty heavy
3- the single row chain used to drive them is weak
4- if the balance shaft chain fails, so dose the oil pump
5- extra strain on the engine robbing power from your engine
6- hurts when the cat knocks it over and it lands on your foot
pulled the top shaft out to inspect damage a little further
as you can see the bearing area is stuffed.
so engine will need to be replaced, that isn't too much of an issue as I have one left over with low kms after a full rebuild from my old red magna I striped for " 84GKSIG's " EFI conversion.
Started preparing the engine today, pulled balance shafts out.
The kit comes with a stub that sits in place of the balance shaft behind the oil pump, here it is installed
a ring thing
thats used to block off the oil feed to the top balance shaft
and done, edges got a bit rough cause I couldnt find a nice sold bit of wood to bash it in with, no one sees it in the engine any way
and installing the new chain
and done
- EDIT -
in this pic clip was installed with the open end traveling with rotation which means in the event of anything coming in contact with the clip it could get flicked off- thanks for pointing that out Superscan811

way it should be installed ( open end of clip up top )
- EDIT-
for what it costs and the amount of time it takes to do its definatly worth the peace of mind knowing that its not going to fail as it did originally.
some symptoms of not having the shafts
1- slight engine vibration
2- humming like sound from the engine at various rpms
some times you don't even take any notice
and thats it for today
M.B