Long ago (4 years or so) I had no idea about turbocharged engines, but I wanted more from my 1988 Triton. I decided to dive straight in and do a turbo conversion, had a Weber 34ADM and some extractors and felt like it went awesome to me, I never knew any better, it had been my first and only car for 5 years. I wanted to do a blowthrough carby turbo setup on low boost. It ended up being a long process, with the typical loss of motivation for months at a time with other stuff happening, but finally got it running and back on the road back in February this year.
I ended up going a completely different direction with this build, and I also bought a 1JZ Soarer with a single turbo conversion while I was building this Triton, and learnt everything I need to know about turbochargers.
I had a TD04 off a Volvo with "VOLVO" lettering on the comp housing, which I still want to use for another application where the "VOLVO" is clearly visible just for laughs. Seemed too small for a 2.6. Instead, on eBay I found some sort of custom hybrid but freshly rebuilt Garrett TB28 (originally told it was a T28) with a different (appears to be GT28ish) front housing with a V-band inlet and carbon seals for a draw through carb setup off a Datsun drag car. So we have no idea exactly what this turbo is, nor did I know whether it would actually work well at all. I found a Sigma turbo inlet manifold and the old man had some SU carbs in his shed that I was going to do a draw through setup with. In the end I ditched the Weber and the fuel tank from the advice of a mate who had built a few LPG turbo setups, and just went straight LPG and blowing through a Impco 425 gas carb and boost referenced Aussie B2 converter with a big eBay intercooler painted black squeezed behind the grille. Made my own 3 inch exhaust withy worout any mandrels, all "lobster" style, with a hot dog and big straighthrough muffler which dumps before the diff and is plenty quiet enough for me thanks to the Garrett mechanical muffler mounted in the engine bay

I found a US VW specialist who makes a piggyback ignition controller called CB Black Box for a few hundred bucks. Wired straight into the factory hall sensor dizzy, locked the advance and set the dizzy to roughly 60 deg BTDC and the CB sees the signal, knows this signal is at 60deg, then retards it to get the desired timing anywhere in the rev range just like a conventional crank angle sensor and EFI, obviously not quite as accurate. Has an onbard MAP sensor good for 40 psi boost from memory, simple 4 wire connection, and a vacuum line to the unit. Bosch GT40 I had lying around provides plenty of spark, and some big eagle leads and fresh plugs prevent any sort of misfire which LPG absolutely hates.
Made 240rwhp on its first rough tune at 10psi, the Repco generic "heavy duty clutch kit" I had installed years ago kept slipping with about a 400% power increase . Dialled it back to 8 or 9 psi and had fun for a couple of months. Installed a cheap Exedy cushion button clutch kit, made 277rwhp at 15psi after a few runs, but when we backed off it was idling rough and could hear a whistle when we revved it. The boost had pushed the carby off and ripped the bolts through the cheap eBay carby adaptor I had installed and blew the gasket out.
Made 277 after this, but love the fact this run had 707 or "LOL" torque
The hex cut outs for the adpator plate nuts were clearly a weakness.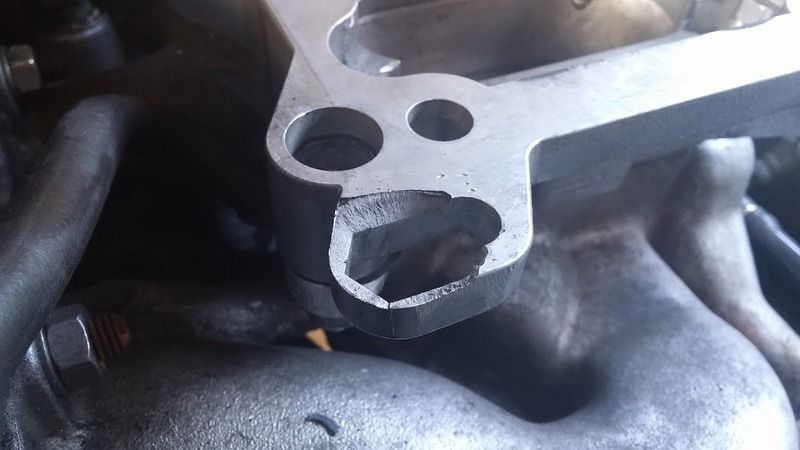 Replaced the adaptor with a stronger one without cutouts for the nuts. While i had the carb of I went ahead and ripped the manifold off and ported out the original 2 barrel orifices, was going to match the intakes but seems Mitsubishi got it right at the factory and gasket/manifold/head ports were within 1mm of each other.
From this
To this...not great....but an improvement
Have not had another dyno run yet but pulls ridiculously for what it is, and is lighting up the 215s in the back easily with a welded diff in 3rd gear. Sees full boost around 3000rpm. Spins the tyres in the wet anything over quarter throttle at 2500rpm in 3rd. This thing is sooooooo torquey

I need to keep tinkering with the Impco carby and boost reference hoses, it runs a bit richer than I'd like on cruise, it is rich everywhere off boost, even with both mixture adjusters fully wound in and leaned out, but it leans out on large throttle applications as it comes on boost, put your foot flat below 3000rpm it'll lean out and not do much, so need to roll on the throttle as it comes onto boost if you're low in the revs. Once at full boost it will hold perfect air-fuel ratios as it revs out. The gas carb is obviously too big for a 2.6, bought it off an old F-truck V8.
Now to see how long the gearbox lasts. I really want to just crack 300rwhp and leave it at that. No idea if the manifold porting helped at all yet. And I never did upgrade those brakes (yet), and manual steering with a small steering wheel and slow ratio is fun. Power steering is coming soon.
I'll leave you with a quick teaser to show how it accelerated on half throttle when it was first tuned before I replaced the clutch. Was running about 9 to 10psi here
https://www.youtube.com/watch?v=FMo1y84w6FI
More to come